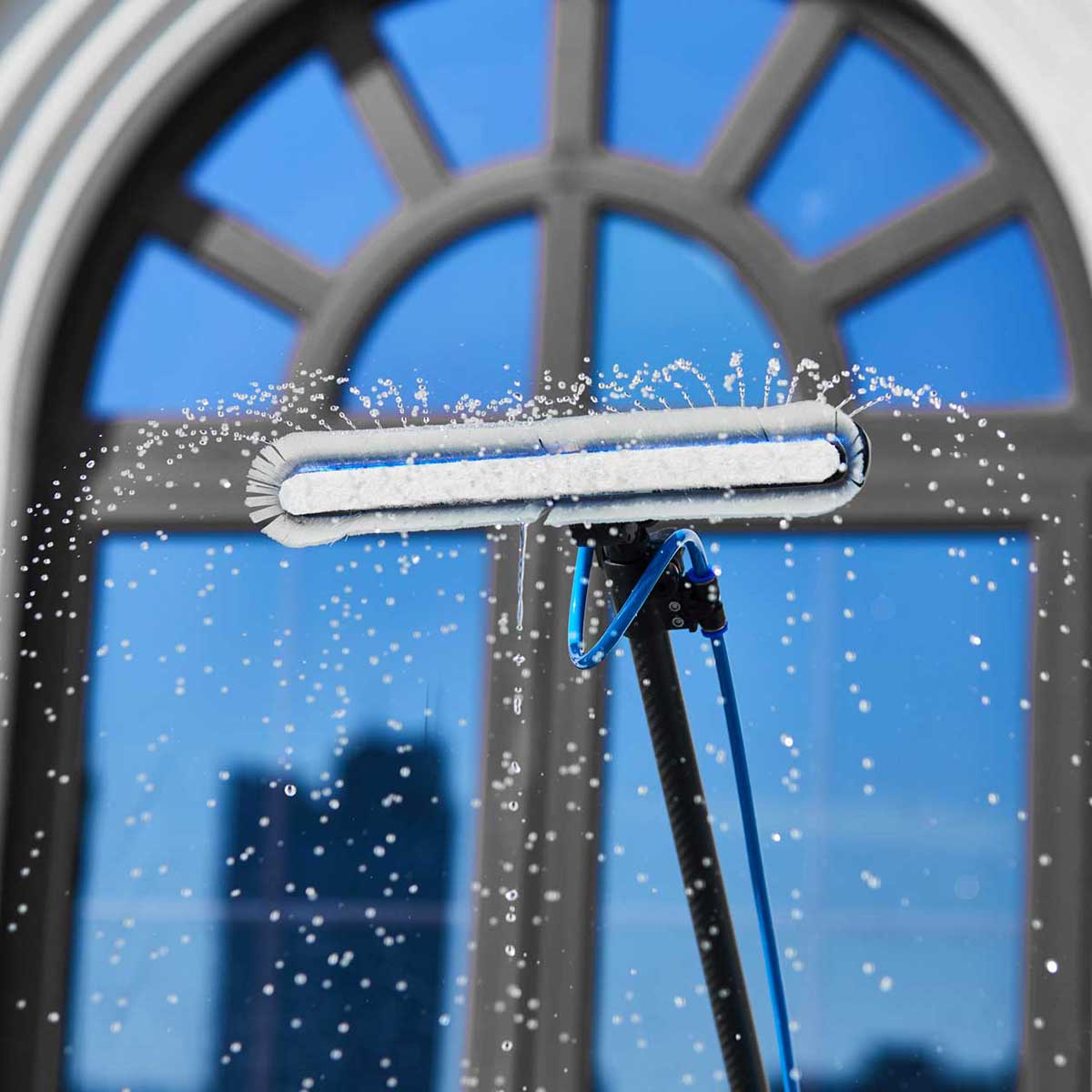 LIGHTER THAN LITE :
Designed especially for the requirements of European and UK/Ireland Window Cleaners, ULTRA-LITE is just 170 grams (6oz). This means you can use it all day long - even when using a less rigid pole.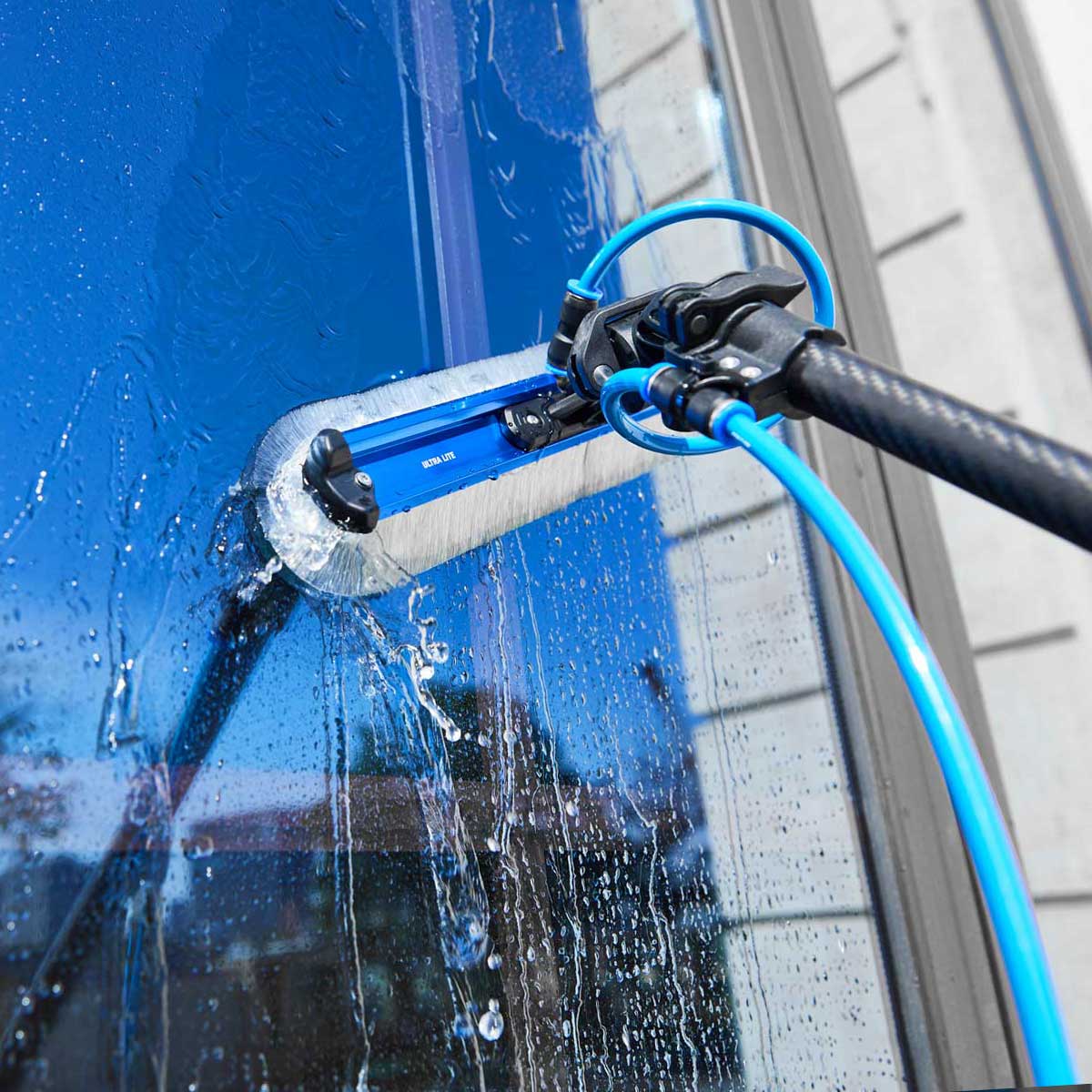 LOW FLOW DESIGN :
For Water Fed Window Cleaners who carry their own water, and don't understand how a higher flowrate makes you multiples faster, we designed ULTRA-LITE for a flowrate of 1.5 LPM (0.3 GPM).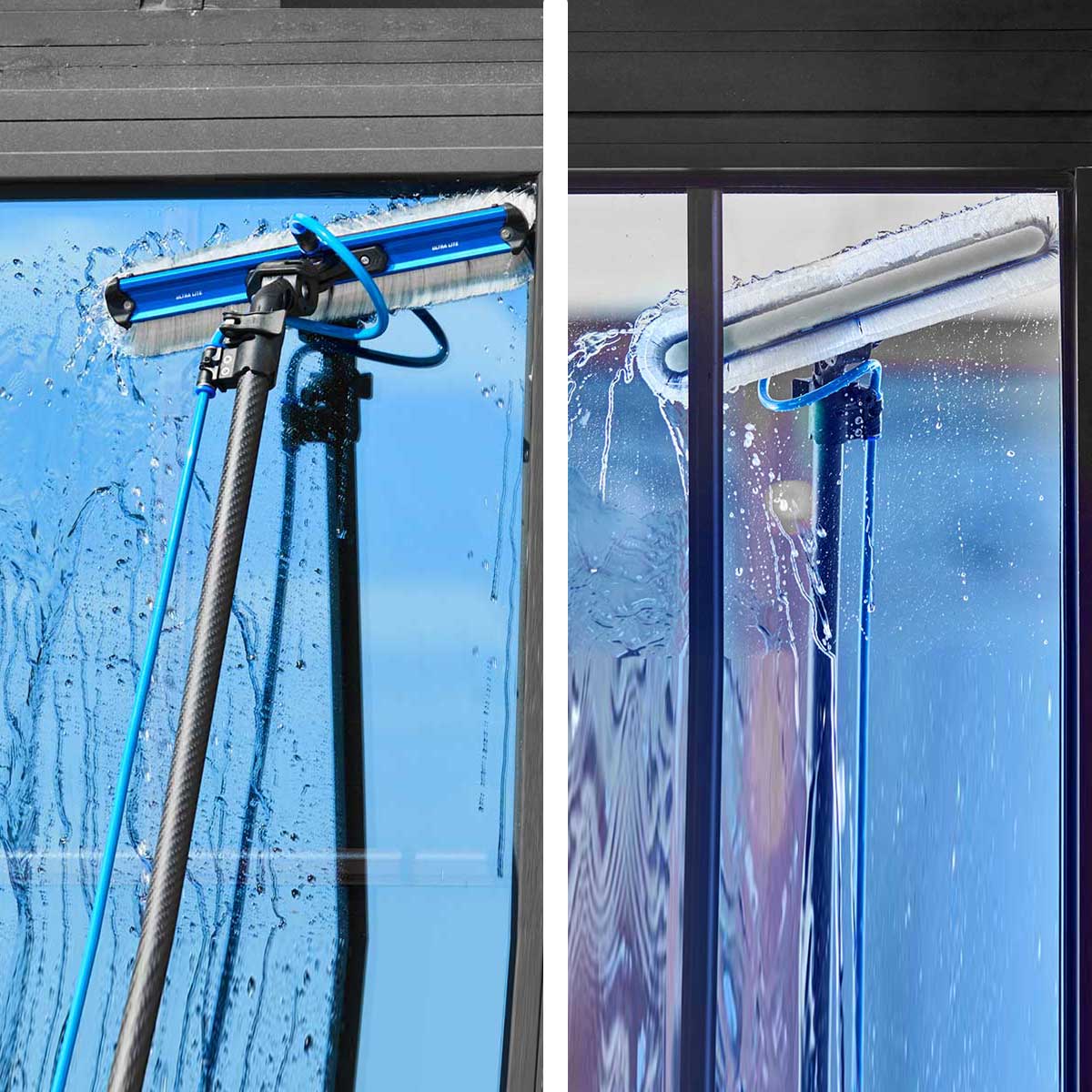 HYBRID AGITATION :
Using a combination of Nylon Bristles and White Non-Scratch pad, you attack the dirt on glass from two angles. Bristles are set at 30-45º to the glass, and the Non-Scratch SCRUB agitates with the fibers parralel to the glass. Using the RADIAL TECHNIQUE, it will have you cleaning windows faster!
Testimonials
With our new hybrid agitation technology (bristles and white non-scratch pad), you can agitate the dirt off windows faster. The radial jet-streams enable on-glass-rinse, on every down-stroke. Mostly, you do not need to go back over the window with a rinse phase.
FASTER
The radial endcap bristles actually do clean the corners of the windows - just scroll through the corners and flick the dirt and debris into the rinse water.
BETTER
Being lighter than any other brush, RADIAL ULTRA-LITE is more ergonomic for the operator. Seriously, you will think it is weightless.
SAFER
The latest Window Cleaning Tool from REACH-iT is RADIAL ULTRA-LITE!
This nimble brush is so light, you will think you don't even have a brush on the end of your pole.
For the FRENCH PANE 6" & 8" SET of ULTRA-LITE Brushes, please click here.
DETAILS:
WEIGHT:  ULTRA-LITE 14" brush weighs just 6 Oz (170 grams) without PIVOT.
WIDTH:  The splayed width of ULTRA-LITE on the glass is 14" and 18" (35 &40 cm).
DEPTH:  This brush is designed to be as close as possible to a wide-bodied squeegee.  Just 1.3" (34mm) across the top!
FLOWRATE : 0.3 GPM (1.5 lpm) is our LOW FLOW fitted RINSE BAR, and 1/2 GPM (2.0 LPM) is our HIGH FLOW RINSE BAR included in the pack.  
HEIGHT:  The height of ULTRA-LITE when splayed on the glass is only 1" (2.5cm).
SCRUBS:  Comes with 10 x WHITE NON-SCRATCH PAD SCRUBBIES, and 10 x MAGIC ERAZER SCRUBBIES.
FEATURES:
POLE TIP TYPES:
No matter your pole brand, you can fit RADIAL ULTRA-LITE to any pole.  REACH-iT - say no more.  UNGER and other EURO POLE TIP poles, GARDINER or TUCKER Brush, you will have an ANGLE ADAPTOR with compatible teeth pattern at the teeth mechanism. Disassemble at the lever, add ULTRA-LITE on the right side, and re-assemble. AUSTRALIA : Aero Poles are compatible with REACH-iT Pole Tip. 
FLOW-RATE:
To meet the requirements of Europe and UK customers, as well as customers in areas that need to preserve water due to self-carry, or drought, the standard fitted is a LOW FLOW version designed for flow-rate of 0.3 GPM (1.5 LPM) with a spare RADIAL STANDARD FLOW-RATE RINSE BAR included 1/2GPM (2.5LPM).
AGITATION: 
With our unique hybrid agitation system we give you a combination of High-grade Nylon bristles and White Non-Scratch Pad in the center. The nylon bristles are angled for maximum effect to remove loose debris and the Non-Scratch Pad is for removing more difficult debris. 
The white non-scratch pads and magic erazer come in packs of 10 and are called SCRUBBIES. To order, click here 
RINSE:
The top bristle blade is designed to break the surface tension of all windows to make hydrophobic glass behave hydrophilic, enabling The RADIAL TECHNIQUE with ON-GLASS-RINSE as the radial jet-streams rinsing edge-to-edge across the top of the brush.
CORNERS:
The radial bristles allow you to 'scroll' through the corners of the window frames to remove spider nests and dirt and the radial jet-streams flush the debris down the glass off the top of the brush. 
TUBE:
We recommend to use HI-FLO 3/8" OD tube (10mm), but ULTRA-LITE can also operate with 5/16" OD (8mm) tube under most conditions.
FILTER:
Your ULTRA-LITE brush is fitted with a debris filter under the PUSHFIT to protect your jets from being blocked in the event you get debris from dragging your hoses during layout or pack down. 
PIVOT:
This swivel is designed to work in all conditions  - even when you are right under a window.  Angle the brush at 45 degrees along the top edge, and scroll through the corners for the fastest window cleaning technique.  
Really loving it
So far with all my Tucker brushes and with the Radial and Radial Rocker I own this brush is rising to the top of my favorites. First of all of the Radial brushes have the most advanced pivoting and brush angle adjustments mechanisms on the market which is also true for the Ultra Light. I did not make this purchase for light weight use at heights but more for the idea to have a less bulky brush to work and work with precision, and I love it. It feels like using a squeegee on a pole. The water flow with thebrinse bars options with this brush is amazing, the regular Radial brush does require a serious flow to work as designed but with this brush it is always adequate and just right. Across the board they are pricey brushes but when you hold one and use it you will know why, these are not just your average plastic blocks with stapled in filaments. I am going to add more of this line up for use and also for back ups.
GENIAL
Eficiente, ligero, buena calidad.
Gracias a esta herramienta ahorro tiempo y esfuerzo.
Favorite brush
Excellent brush. Fantastic
Small improvements
I've been meaning to give you my feedback on the ultra lites since I bought one secondhand (nearly new) 8 months ago.....
They are superb apart from 2 solvable, minor issues.
1: the bristles are just a little to short. In the UK, we get a lot of smaller windows with plastic detailing. With the width of the brush and the shortness of the bristles, you have to 'go in at an angel on each side' so to speak. If the bristles were 8-10mm longer, this would eradicate this issue.
2: the angle of the jets is pointed further away from the bristles than the Lites. Again, in the UK, 90% of windows have vents on the top frame, this can cause a few issues from time to time. If they were aimed to the tip of the bristles similar to the Lite version this would be so much better.
One more suggestion to possibly look into across your Radial brand, is to have a springed 'rocker' stock. So the whole brush is square on the glass no matter the height and angle you are at all the time. A bit like loosening the cogged part of the neck, but being springed, would return to its original position.... hope that makes sense.
But overall just like your Lites, I am very impressed with your brushes. Still need to sort out the brittleness of the side bumpers, as I make my own now.
Regards, Danny.